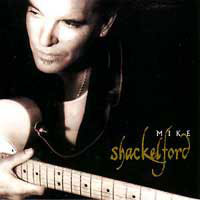 Mike Shackelford
All Songs Written By Mike Shackelford © 2000 Mike Shackelford
Produced By:
Craig Spirko & Mike Shackelford
Recorded At:
Twelfth House Records, Jacksonville, Florida
Click on any of the songs below to listen to samples!


CD Review
Shackelford's First CD Has Voice Of Distinction
By Mark Faulkner Shorelines/Florida Times Union
Already a staple of the Beaches music scene, Mike Shackelford faces a daunting challenge in releasing a debut CD. He and his band's performances of the 50's, 60's & 70's rock 'n' roll, blended with his own originals, are well known by local music fans. But can the originals stand on their own without being juxtaposed between such songs as Blue Suede Shoes and Honky Tonk Women?
The answer is a resounding yes. On the CD, aptly titled Mike Shackelford, he manages to distinguish his own voice from the bands covers. Yes, his singer-songwriter approach makes strong nods to the music of the late 70's and early 80's, the kind of mid-tempo country-flavored rock that made the Eagles and Kenny Loggins best-selling artists.
But what distinguishes Shackelford from those bands and musicians is the earnestness behind every word on this CD. He's reinvented himself, not as a singer-songwriter or a poet, but as a storyteller who vividly describes people's lives.
For example, there's State Road 10 Cafe, which tells the story of Vicki, a waitress and mother whose high school sweetheart/husband left her with three children to feed. Through the verses, Shackelford tell us about Vicki taking night school class and how "nighttime finds her lying in a bedroom all alone, dreams as warm as a summer day, a heart as cold as stone. In the daytime she still waits tables at the State Road 10 Cafe, still taking night school, trying to wash the dirt away." It's easy to feel for Vicki: you don't just pity her because she married foolishly or write her off as someone who's paying for some childhood mistakes. Instead, Shackelford is able to turn this aging waitress into a very real, three dimensional character, someone with more to her life's story than an apron, schoolbooks and baby pictures.
Throughout the CD, Shackelford sings in the first person, either criticizing himself for letting someone get away, comforting someone nursing a broken heart or finding fault with how they are treating someone else. He's able to manipulate his raspy pitch to make all seem convincing. Regardless of what Shackelford sings, that honesty is there. Musically, these are pretty straight-up rock 'n' roll songs, with the occasional banjo here, guest vocal there, all laid out to give more impact to the lyrics.
Music that lasts tends to be the kind that has a catchy melody or a timeless message. Here, Shackelford has done both, mixing not-too-complicated music with some strong lyrical imagery. The result is a vivid collection of personal anecdotes and intriguing stories that will leave you wondering which stories are real and which are just songs.